Eyebrow Tinting:
Tinting is a perfect treatment for colouring of eyelashes and

eyebrows which lasts for several weeks. It was developed to give

the eyes a natural radiant look without the need to apply mascara.
Tinting is also great to use on the eyebrows to make them appear

darker and more defined.
This beauty treatment is ideal if you are going on holiday or just

very active as you never need to worry again about having smears and smudges as the product is
waterproof.
The product is gentle and safe although a 24 hour test patch is required before the treatment is
carried out.
To achieve a radiant look to your eyelashes the dye is available in 3 different colours black, brown
and blue.
Brown is the best colour to apply to the eyebrows to make them look fuller and defined.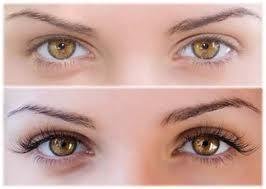 Price List:
Eyebrows: £6.00
Eyelashes (Top & Bottom): £10.00
Eyelashes (Bottom): £5.00
Eyelashes (Top): £6.00

Click here to see all our treatments' Price List.